Enhanced cybersecurity authentication solutions for internal teams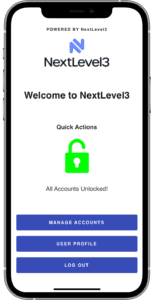 Not every user needs the same level of access for the same period of time – especially if your organization has project-based teams or consultants that work intermittently. Scenarios like these can quickly complicate access management and add risk to your cybersecurity tech stack.
Next Level Account Protection allows you to manage access for any and all internal users easily with advanced policy and user access management solutions. NL3's single action (tap or click) account locking features make the process fast and precise. You can also receive alerts for unauthorized attempts and other fraud indicators.
Pause user account access during maintenance
There's no need to expose systems to vulnerabilities during scheduled maintenance because users still have account access. A simple team-wide access pause can protect during downtimes and avoid breaches.
Easily pause access to all accounts

No need to manage users individually

Automate locking and unlocking
It seems like half the job of IT and security teams are communicating with users and providing account support. With a one-click solution to instantly pause all user access, communications about when users can or cannot log in are reduced.
There's also less need for verifying all users have ended sessions or troubleshooting problems and scrambling to secure accidental breaches.
In the unfortunate event of a workforce reduction or sudden team size changes, unauthorized access can be prevented with mass lock-outs. Whether you have 100 or 10,000 accounts on a team, don't expose sensitive data to users who no longer need access.
Prevent accidental or malicious unauthorized access

Reduce the time it takes for mass access management

Monitor access attempts
When sudden personnel shake-ups occur, internal data breach risks increase wildly. Even if your systems are securely protected from outside threat actors, previously credentialed users who should no longer access privileged information can be difficult to manage.
Next Level Account Protection makes access management swift and complete by locking all accounts with the click of a button.
Reduced access or temporary access
There are also cases where users may need less access than they did before or are working on a contract or project basis. NL3 gives you the ability to lock and unlock accounts for teams who don't need continual or complete access.
Simplify account access during short-term projects

Reduce the level of access users have

Automate intermittent access schedules
If contractors or project-based teams need regular but intermittent access to complete their work, easily automate and schedule account locks and unlocks, reducing attack surfaces when access isn't needed.
Permissions for various applications can also be turned on and off if users need multiple levels of privilege at different times.
Easy tech stack integration
Whatever systems and applications you're currently using, tech stack integration is easy with Next Level3's pre-built plugins and code snippets. You can quickly and seamlessly integrate with Okta, Auth0, AWS, and WordPress/Magento.
Convenient SaaS solution

Add seamlessly to your authentication tech stack

Customize implementations for your needs
We will work directly with your organization to perfectly integrate Next Level3 into your tech stack and increase control while reducing risk and hassle. Don't just rely on the native security features of the enterprise apps and services you're using — take security into your own hands.
MFA+ solutions are more and more needed beyond industry-standard security as attackers adapt and modify their strategies to gain access to your sensitive data. It doesn't have to be complicated to add a deeper layer of protection to your team's account access.
The future of Seamless MFA cybersecurity starts here. Let's Talk.
We can help support your policy and account management initiatives. When you're ready – let's talk.